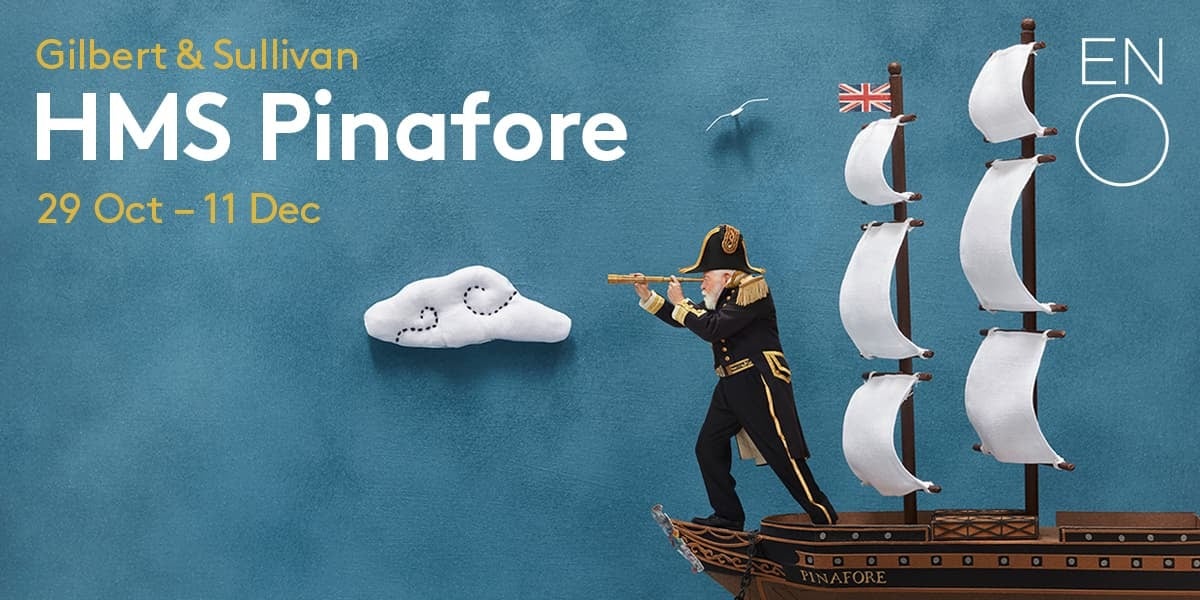 The HMS Pinafore sails into the London Coliseum this winter
Keep me updated
We'll tell you as soon as tickets go on sale:
Gilbert and Sullivan's comic opera HMS Pinafore is a hilarious tale of love, honour and duty. Packed with absurd characters, unforeseen plot twists and a delightfully farcical finale, Pinafore is a satirical take on the British class system and the promotion of unqualified people to positions of power.
Age restriction
This production is suitable for all ages.
Performance dates
29 October - 11 December 2021
Special notes
Sung in English. Our surtitles system displays sung words above the stage.
Entry requirements All customers will need to meet one of the conditions below depending on their age;
Anyone aged 18 or over will be required to show either a valid NHS COVID Pass (or international equivalent) as proof of double vaccination or evidence of a negative lateral flow test within the last 24 hours to enter
Children aged 11-17 are strongly encouraged to take a Lateral Flow Test within 24 hours of attendance, and you may need to show the result of this test.
Children under 11 do not require any additional checks at this time.
Please arrive as early as possible and no later than 15 minutes before the performance starts. Main doors and all bars will open 90 minutes before the performance. Auditorium doors open 60 minutes before.
To avoid delays, please have your tickets ready on arrival; download or print your NHS COVID Pass in advance and arrive in good time to allow these extra checks to take place.
Face Coverings All customers must wear face-coverings at all times during their visit unless;
They are under the age of 11,
When they are eating or drinking
If medically exempt. (If you are exempt, please let staff know on entry, and if you have one, please wear an exemption badge. We encourage all customers to be mindful and respectful of others as some people are less able to wear face coverings, and the reasons for this may not be visible to others.)
There is a zero-tolerance policy approach to abuse of any kind towards staff. We ask that all audience members respect our team as they carry out these extra checks